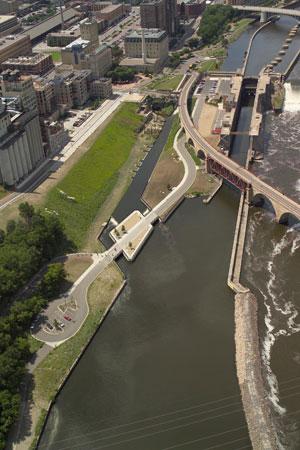 Water Works Temporary
Water Works Temporary is a convergence of multiple art and design projects at the proposed Water Works park site—the area from Third Avenue to Portland Avenue and from the Mississippi River to First Street. This site will feature Night Blooms, commissioned by Northern Spark from artist Wil Natzel; a horticulture exhibition among the mill ruins; and a landscape lighting scheme of the proposed Water Works Park.
Horticulture Exhibition
Making waves. Changing course. How landscape architecture is influencing the way we understand water. 
This year the American Society of Landscape Architects–Minnesota Chapter (ASLA–MN) is focusing on protecting, enhancing, and celebrating our regional waters. Changes in climate and increased human pressures on our resources are difficult to predict. What is certain is that our complex connection with water will continue, as will our constant effort to understand and improve that relationship. The waterways we take for granted here in the Midwest create environmental, social, and economic ripples that can be felt across the country and around the world. Similarly, innovative projects have the power to alter the course of industries, fields of research, and the way we live. In 2012 ASLA–MN is showcasing the influence of water—one of the most powerful and important elements of our landscape—as well as the work it inspires and the legacy landscape architects will leave. 
On the evening of June 9, ASLA–MN will demonstrate the confluence of innovative twenty-first-century water treatment, art, horticulture, and entertainment with floating islands and a giant outdoor living room in Water Works Temporary, located at the banks of the Mississippi River near the Stone Arch Bridge in downtown Minneapolis. The plan includes design and installation of a floating island in Mill Ruins Park that will improve water quality, attract beneficial plant and animal species, and help restore the river to a livable fishing habitat. These islands, known as floating treatment wetlands (FTWs), are powerful tools in water stewardship. They mimic natural floating islands to create a concentrated wetland effect. Constructed of durable, nontoxic postconsumer plastics and vegetated with native plants, the islands float on top of the water, providing a beautiful habitat for birds and animals, while underneath the surface they aid in cleaning the water by attracting microbes that are responsible for breaking down water-borne pollutants.
Join us as we celebrate our greatest state resource: water.
Night Blooms
For 2012, we commissioned Wil Natzel to create an architectural-scale installation just below West River Road Parkway near the Stone Arch Bridge from the humblest of materials: cardboard. Using a specialized CNC cardboard knife, he will make eight blooms ranging in height from 15 to more than 20 feet, assembled into a cluster. Each bloom has a round ten-foot diameter top that forms a permeable enclosure—an environment that can be explored throughout the night.
Natzel is interested in the history of architectural ornamentation, as well as its expression today using contemporary tools in unexpected ways with unusual materials. He has produced and assembled large architectural constructions of cut cardboard (giant domes with squids) at the Soap Factory in Minneapolis. Night Blooms is his first outdoor cardboard installation. This whimsical bouquet, reminiscent of sunflowers stretching toward the moonlight of nuit blanche, contrasts with the surrounding historic structures in the community. The ephemeral materials, like a memento mori, remind us of the passage of time and the resourcefulness necessary to survive and prosper.
Natzel comments on his work: "With Night Blooms, I construct structures where pattern and decoration can thrive in architecture. I am creating spatial graffiti as a purely decorative enhancement to the built environment."
Infrastructure as Habitat
The Minneapolis Park Foundation, with the Minneapolis Park and Recreation Board and the College of Design at the University of Minnesota are sponsoring five installations at the Water Works site. University students created large scale cladding systems—as part of the RiverFirst project of proposed Knot Bridges—using drift wood and recycled industrial wood. Each cladding system is designed to provide habitat for a diversity of species along the river.