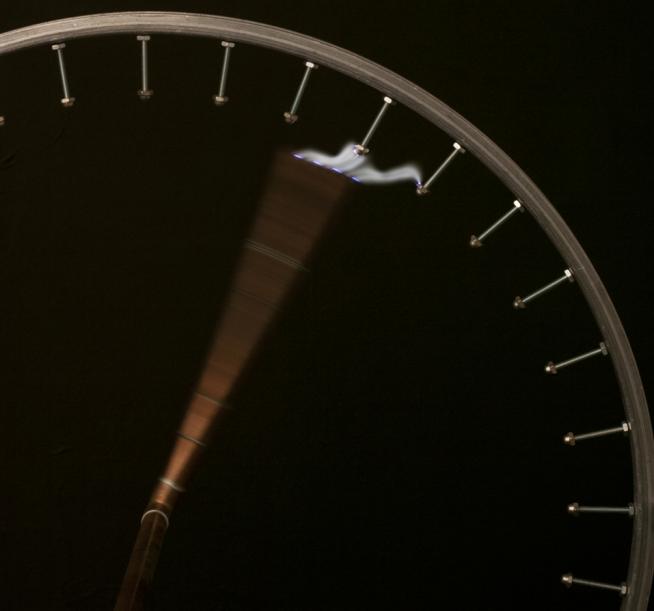 THE Northern Spark
Electricity, which powers almost all technology in the twenty-first century, first became a useful energy source around 1800 with the invention of the battery. Since then, wires, switches, light filaments, transformers, motors, and floods of inventions (diodes, vacuum tubes, speakers, microphones, telephones, radio, TV, transistors, thermostats, and in our contemporary era LEDs, LCDs, CCD sensors, PCs, motherboards, chips, Ipads, and Siri) chart a history of dazzling innovation and miniaturization. In the process, however, electricity as something elemental and wondrous has become invisible. Our project is to reassert electricity's essential mystery and to exteriorize and celebrate its properties along with its function as sign and symbol.
We will construct THE Northern Spark, an iconic electrical spark generator installation near the St. Anthony Falls hydroelectric plant, the only waterfall-driven hydroelectric plant on the Mississippi River. The installation will consist of a centralized rotating electrode arm from which electricity will jump across a spark gap to approximately one hundred terminals along a twelve-foot-diameter steel circle. Adjacent to the arcing power circle will be a video projection of closely related imagery, including the spark machine in operation, tonally reversed images of it, shadow images, close-ups, and other aspects.
David Goldes
David Goldes received an MFA from the Visual Studies Workshop at SUNY Buffalo; he also has a BA in chemistry and biology and an MA in molecular genetics from Harvard University. He has been awarded grants from the Guggenheim Foundation, the National Endowment for the Arts, McKnight Foundation, and the Bush Foundation. His work was featured in the exhibition Midnight Party at the Walker Art Center. Since 1986 he has been a member of the media arts faculty at the Minneapolis College of Art and Design. http://www.davidgoldes.com
Jonathan Bruce Williams
Jonathan Bruce Williams received his bachelor of fine arts degree in photography from the Minneapolis College of Art and Design in 2008 and was awarded a 2009/2010 Minnesota State Arts Board Artists Initiative Grant and a 2010/2011 Jerome Fellowship for Emerging Artists.